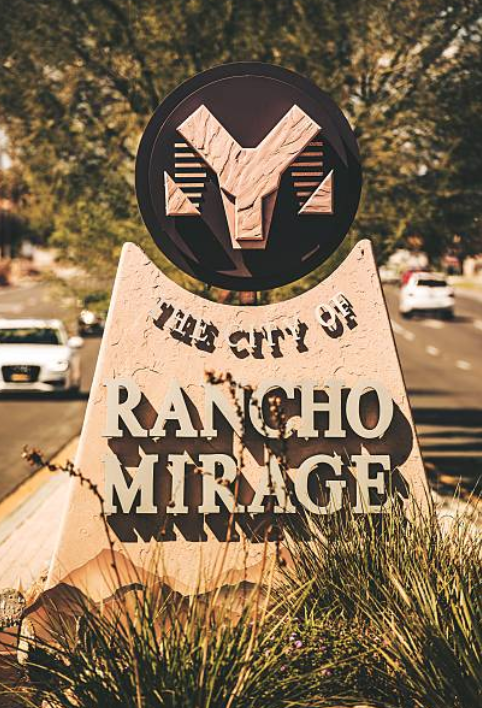 Rancho Mirage home values deliver luxury, and access to the finest golf, spa, and dining experiences. For more information contact John Campbell at 323.646.8558. Rancho Mirage is home to the region's only Five-Star resort, The Ritz Carlton-Rancho Mirage, located on a spectacular bluff overlooking the entire Valley, offers guests unparalleled service and accommodation.
The Omni Rancho Las Palmas Resort & Spa, featuring Splashtopia and a Lazy River, for a family getaway.
The Agua Caliente Casino Resort Spa features round-the-clock gaming excitement and rooms, spa, dining, and headliner fun all housed in the Valley's only skyscraper property.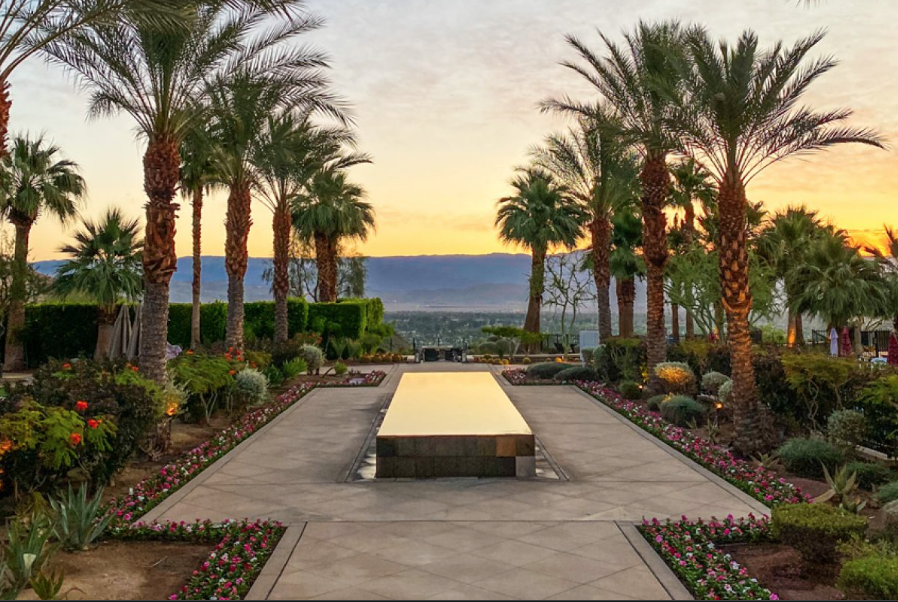 Rancho Mirage Attractions
Rancho Mirage Amphitheater is a state-of-the-art facility that plays host to exciting concerts, art festivals, and Broadway productions. Nevertheless, entertainment is in abundance throughout the year for residents and visitors to enjoy.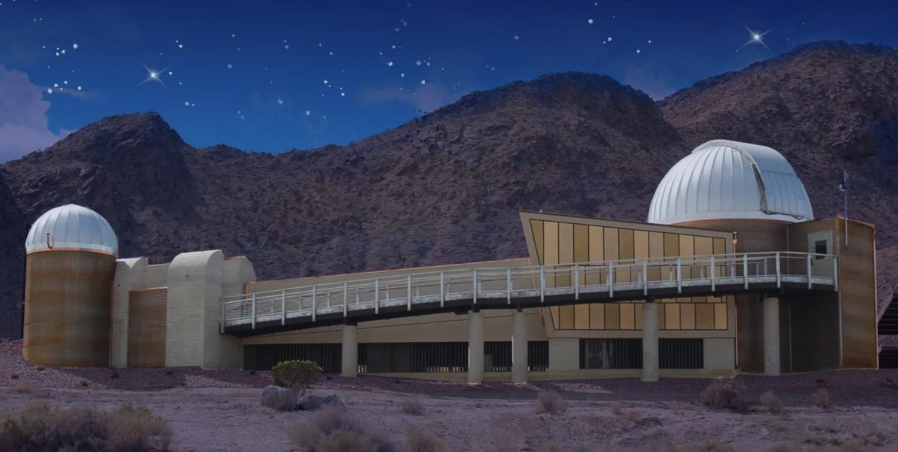 Unquestionably, the Rancho Mirage Observatory is the first of its kind in the Coachella Valley. Situated just beyond the west end of the Rancho Mirage Library, the addition of the Observatory has elevated the Library's ever-evolving mission. Lifelong learning and has created an educational "campus" for residents and visitors alike. The current array of daytime tours, nighttime stargazing events, guest lecturer series, and film screenings offers an unforgettable experience.
Importantly, Rancho Mirage is proud to be the home to medical institutions like Eisenhower Health, Hazelden Betty Ford Center, and the Barbara Sinatra Children's Center – all world-renowned health facilities.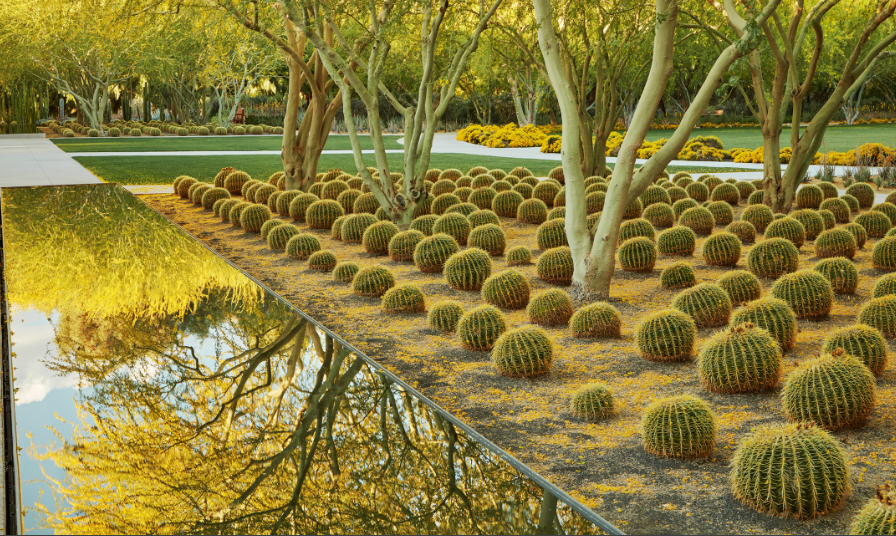 Without a doubt, Sunnylands in Rancho Mirage is best described as "a place of history, hospitality, and diplomacy". Also referred to as the "Camp David of the West", Sunnylands' Gardens and Visitor Center, as well as the Estate home of Ambassadors Walter and Leonore Annenberg, have become attractions to visitors from around the world.
City Facts
Type of City: Charter Effective December 25, 1997
Form of Government: Council-Manager
Area in Square Miles: 24.7
Elevation: 252 feet above sea level
Population: 16,804
Day Time Population: 25,635
Total Dwelling Units: 14,792 and growing
Median Age: 64
Average Household Income: $138,993
Average Temperature: 88° daytime; 55° night
Average Rainfall: 3.38 inches per year
Average Humidity: 27%
Housing Market Demographics
Average Owner-Occupied Home Value: $825,738
Housing Units: 14,792 and growing
Average Household Size: 1.95
Rancho Mirage Housing Market
These tables display the average home size in each city, followed by its price and price per square foot. These prices are then compared to year-ago levels and to the all-time lows that occurred in 2011 and 2012. Year-over-year gains in detached homes range from 50.9% in Indian Wells to 20.4% in the City of Rancho Mirage to 28.6% in the city of Coachella. In the attached home market, three cities continue to have gains of over 40% – Desert Hot Springs, Bermuda Dunes, and Indio.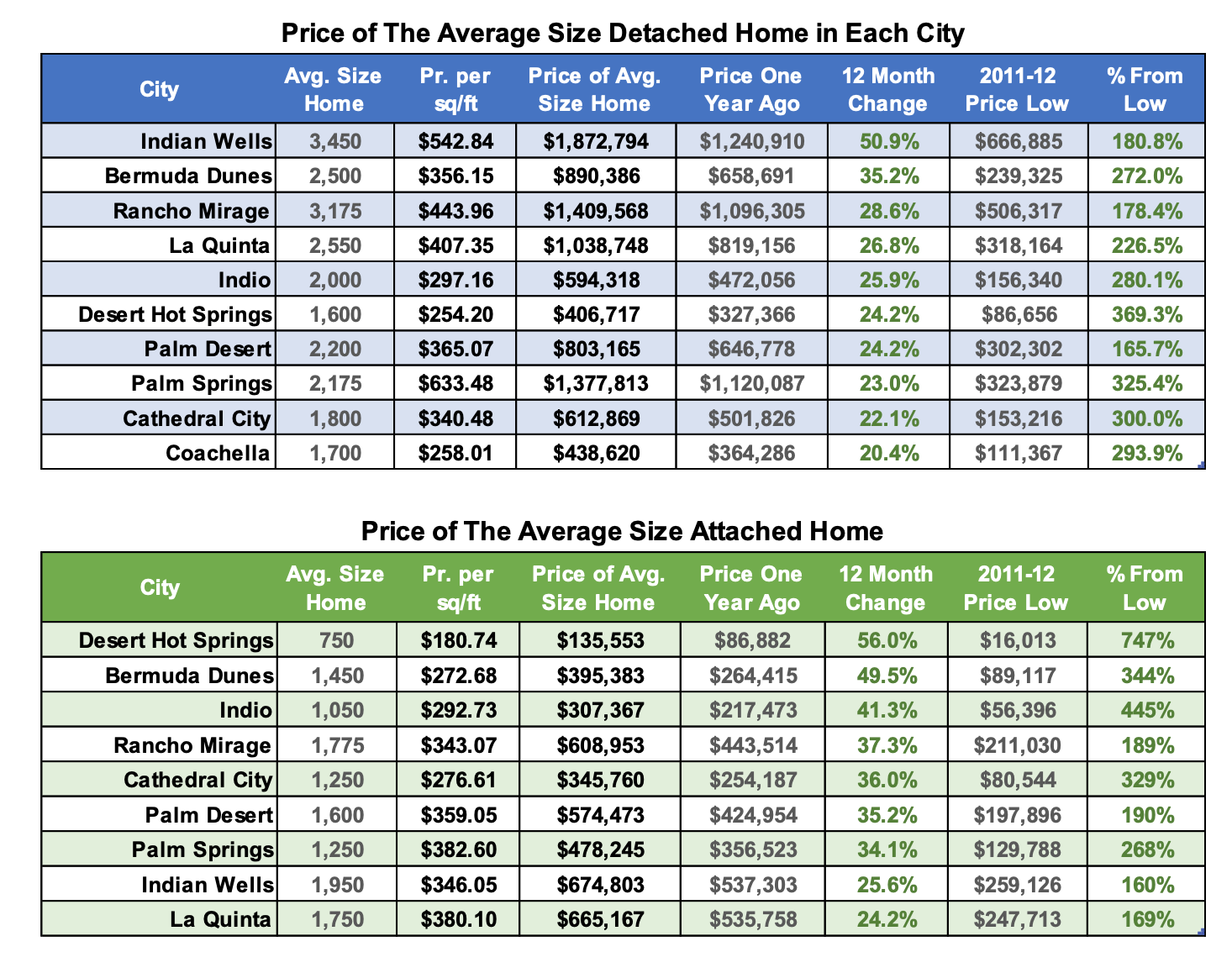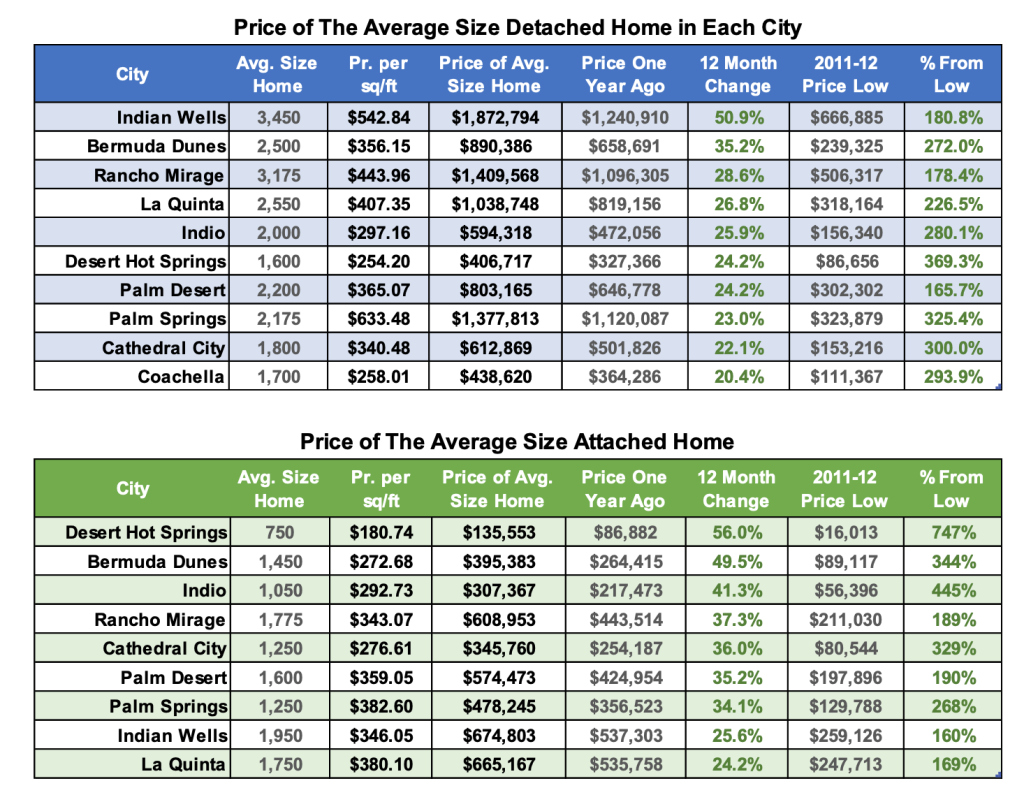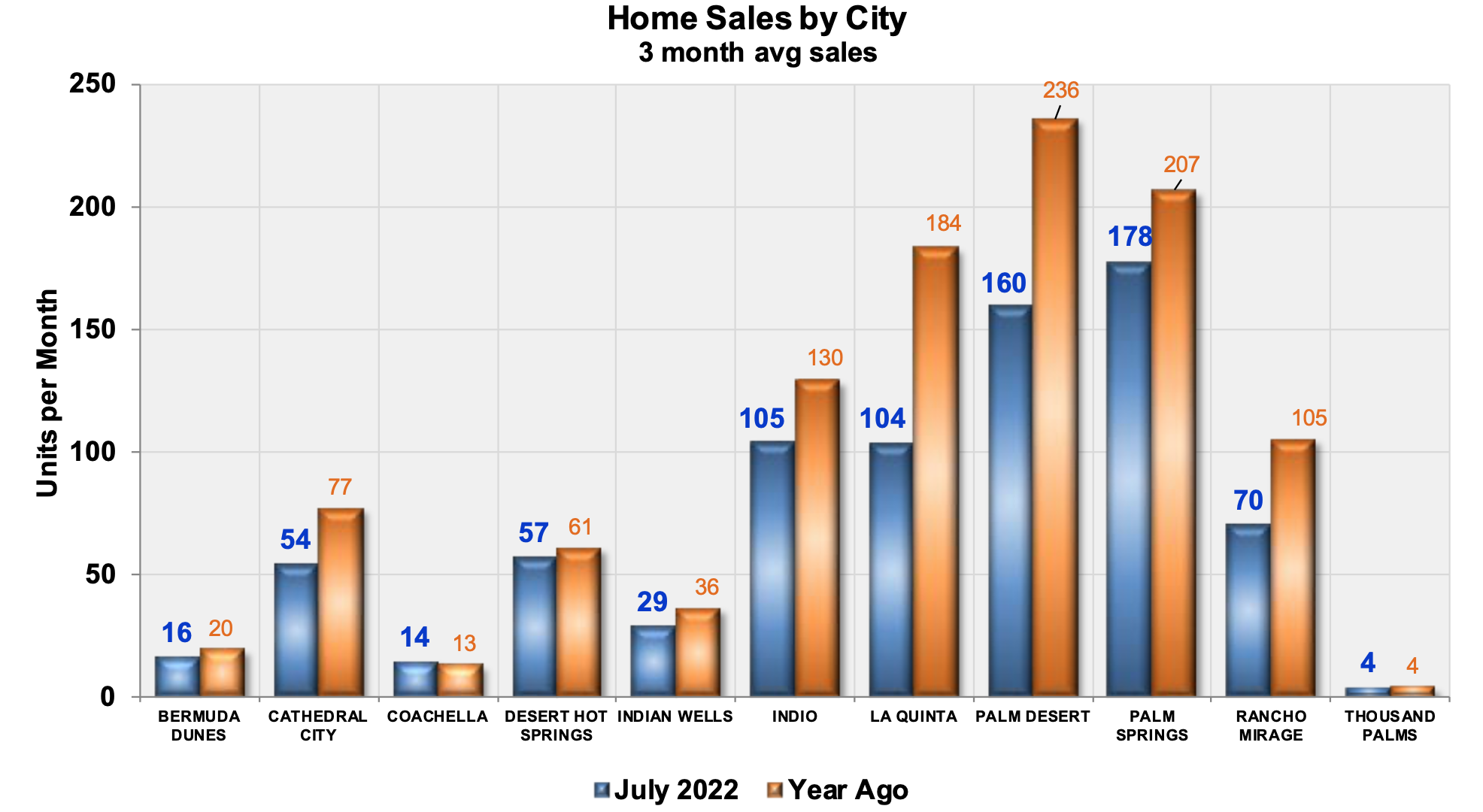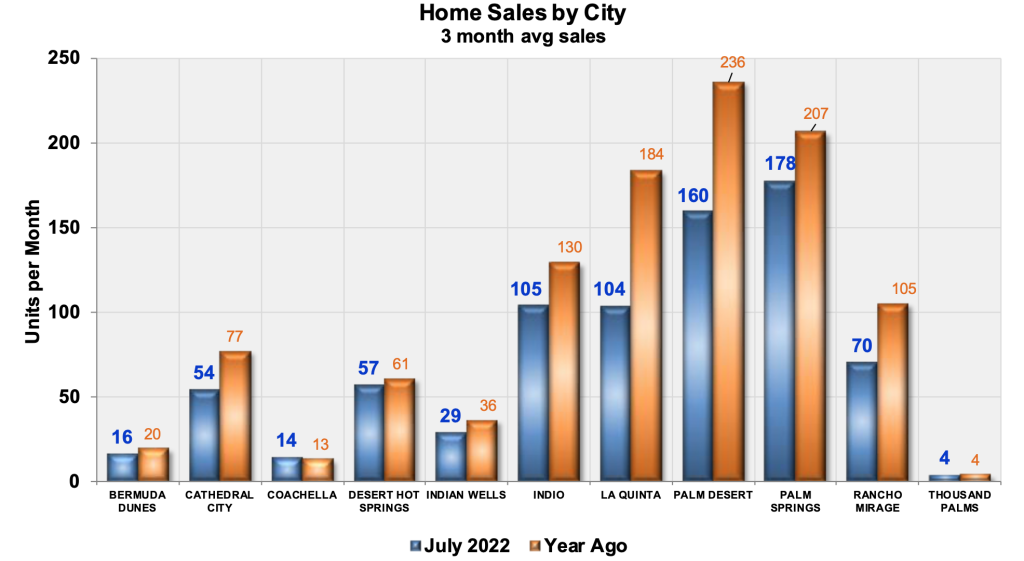 Particularly, every city except Coachella had lower sales in July compared to last year. The largest sales declines were in the cities of La Quinta and Palm Desert, where sales were down 43% and 32% respectively. The cities of Indian Wells, Indio and Cathedral City experienced smaller sales declines. Only sales in Coachella were higher by 7%.
Importantly, the Rancho Mirage home values are still at a climb year after year, for your FREE HOME EVALUATION contact John Campbell at 323.646.8558.